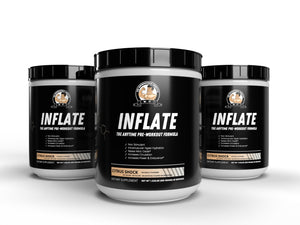 Inflate -Non Stim Pre-Workout
This Non-Stimulant Pre-Workout was formulated with all of the most effective performance enhancing agents, at the most effective doses. This product is not available but make no mistake this will be the only Pre-Workout you will need. It is a full spectrum Performance Enhancing Ignition for more Strength and Endurance. And of course the Craziest Pump you can get!


Instead of putting out another cookie cutter supplement, I decided to create a product that does everything I want it to. That means I need to be able to take it "Anytime." Even before late workouts. 
**ATTENTION, THERE IS NO REFUNDS ON ALL PRODUCTS!!** I am a small business that cannot resale a consumable product that has been shipped out. THANK YOU for understanding.