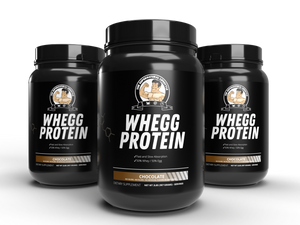 Whegg Protein
Finally a product we can enjoy knowing we have the best possible sources of protein togther in one supplement! 50% Whey and 50% Egg White protein. That means fast absorption and moderate. On top of that we have made sure to keep everything out that is not natural. No Artificial anything! No chemical sweeteners, colors, flavors, fillers or preservatives. This is the closest thing to a real food supplement you are going to get! I prefer to take this with my "Postrose" and our "Insulin Mimetic" to drive our glycogen and kickstart recovery!  
After years of using protein supplements I have found the best blend of protein goes beyond the  scope of Whey. Even though Whey is incredible it can be more effective with a moderately absorbing protein creating a fullness closer to an actual meal. Supplementing with whey and egg white protein at the same time post-workout can provide several benefits for muscle recovery and growth, including:
Increased protein synthesis: Both whey and egg white protein are rich sources of essential amino acids, which are needed for muscle protein synthesis. Consuming both proteins together can provide a complete range of amino acids, which can increase protein synthesis more effectively than either protein alone.

Improved muscle recovery: The combination of whey and egg white protein can also provide a sustained release of amino acids, which can promote muscle recovery and reduce muscle damage after a workout.

Increased muscle growth: Consuming a combination of whey and egg white protein can also promote muscle growth by stimulating muscle protein synthesis and reducing muscle breakdown.

Enhanced satiety: Whey and egg white protein are both high in protein and low in calories, which can help to promote feelings of fullness and reduce overall calorie intake.

Versatility: Whey and egg white protein are both versatile and can be easily added to a variety of foods and beverages, making them a convenient and easy way to increase protein intake post-workout.
It's important to note that the specific benefits of whey and egg white protein supplementation may vary depending on individual needs and goals, and protein intake should always be accompanied by a balanced diet and regular exercise routine.